El Vínculo Hispano | A Safe Space for the Community
Comments Off

on El Vínculo Hispano | A Safe Space for the Community
Original post from Triangle Community Foundation 
"Our community wants what everyone wants – a roof over their heads, to own a home, peace and safety in their communities, not to be discriminated against, access to opportunities, a good education, a good paying job, a driver's license, documentation, a path to citizenship, healthcare."
– Ilana Dubester, Executive Director, El Vínculo Hispano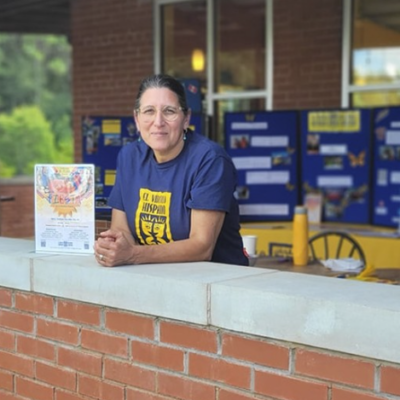 There is nothing unreasonable in this list of wants, nor should any of them be out of reach. And yet, for the Latinx community in Chatham County, many are, or at least were, before El Vínculo Hispano (EVH) opened its doors in 1995.
The need for an organization focused specifically on the Latinx community came from the reality that, in the 1990s, Latinxs began moving to the area by the thousands to work in Chatham County's poultry processing plants. Back then, there were few services available in Spanish and only five bilingual people in the entire county. With seed funding that the local United Way set aside to help the Latinx community, EVH was born. Its initial charge was to learn about the needs of the community and connect them to existing services offered by United Way affiliated agencies. It quickly became obvious that the immigrants had unique needs, and that advocacy was needed for services to be accessible and inclusive, as most agencies did not have bilingual staff nor information in Spanish.
Initially, the organization worked with first-generation immigrants, who were primarily men. Today, the Latinx community is three generations deep in Chatham County, and their needs have evolved. Most of the second-generation was raised in the US and speaks English, which allowed them to serve as the language and cultural interpreters for their parents as they navigated US systems. Despite growing up here and being bilingual, this generation still faces many challenges, including access to a higher education. As a result, Orgullo Latinx Pride (OLP), a leadership and college achievement program for high school students, was launched in 2017. The program offers individualized assistance with the entire college application process, including writing essays and applying for grants and scholarships. The program also leads educational field trips and college tours to help students become acquainted with a campus and comfortable with the thought of leaving home. This past year, OLP's eight graduating seniors were collectively awarded over $250,000 in scholarships to attend college.
Their Community Support Program is one of the core programs of the organization, offering a safe space for Latinxs to ask questions about services and resources available. EVH is like the "Google for our community." Offering help with simple tasks that many take for granted, such as reading and translating mail, can be crucial.  Most of EVH's Latinx staff are first-generation immigrants who understand the struggles of adjusting to a new language, culture, and systems. The team helps the community learn about and navigate US systems, such as criminal/civil justice, taxes, health care, education, and more. People are encouraged to, "Come with any question and we'll help them figure it out."
The COVID-19 pandemic created unique challenges and opportunities for EVH, as it did for many nonprofits. For an organization that offers direct services, it was very difficult to cease in-person interactions. Phone service was used for a while, but that was inadequate for the needs of the community, so staff returned to the office in September 2020. A few programs that were created specifically to address the crisis caused by the pandemic:
The Solidarity Fund: EVH led the charge to join efforts with five other nonprofits to raise money for people who were not eligible for stimulus checks. Since June 2020, EVH has distributed over $234,000 to 274 families.
COVID-19 Community Response: EVH developed partnerships with agencies and health care providers focused on health equity and increasing access to services. The program offers vaccination/testing clinics, health fairs, community education, mask and test kit distribution, and advocates for the rights of essential workers. Through its vaccine clinics, they have vaccinated over 1,600 community members. In 2022, they launched a COVID-19 Lay Health Advisors Program. Seven community members were trained and hired to canvass Latinx neighborhoods in Chatham County to encourage their neighbors to get vaccinated and help them access services. The Advisors also distribute educational materials, masks, and test kits. To date, the Advisors have visited 1,160 homes, which has resulted in many referrals for vaccinations.
As El Vínculo Hispano looks to the future, they are thrilled to have found a permanent office space, a long-time goal of theirs now. Additionally, they hope to provide stability for the organization, and to grow leadership from within, strengthening current programs and investing in its people. "Our most prized asset are our people," Ilana says. "Keeping them happy, supported, both financially and emotionally, is critical for the stability and success of the organization." Ilana is cognizant of the fact that she needs to build a succession plan, which makes investing in its staff of tantamount importance. There are a lot of nuances and knowledge needed to be successful, as the political environment in a small rural area is tricky to navigate. "There are a lot of brick walls that require jackhammers, a lot of stamina and backbone to continue fighting back," she says. "Sometimes small holes open in the wall, but the next thing you know, they're patched up and we need to start over. It is difficult but exciting work to be on the frontlines of immigrants' rights and be able to make a big difference in people's lives."
---
---